HOW CAN I ADD FLAIR TO MY NHT VIOLET GLASS?
Glad you asked! So many ideas, here's just a few -
Glass markers - write and erase, or get the permanent kind.

Glass paint - follow the manufacturer instructions (Examples shown right using Martha Stewart glass paint and stencils.)
Stickers.
Embellishments - glue on jewels, glitter or anything that makes your heart sing.
Jewelry - have a favorite bracelet you want to display? Let your jar wear it awhile.
HOW CAN I USE MY NHT VIOLET GLASS?
So many ideas on what to use your NHT Violet Glass. Here are just a few ideas that are different from our website.
Create your own candles. Use essential oils. Dried flowers. If you use one of the jars, your scents will last a long time! Bonus - the flame will look purple.
Store essential oils.
Use for a big batch of homemade peanut butter.
Create a "house wine" with all the wine leftover reds. It will always be an evolving different table red!
Use as an interesting vase.
Use as serving vessels for guests. Your best distilled water. Use the charger bowl for a specialty seasoning salt or herb blend for bread.
WHAT IS NHT VIOLET GLASS BY MIRON?
NHT Violet Glass by Miron is an extremely special and unique type of glass. It is a magnificent looking glass both in the rich, deep purple color but also the stylish minimalist designs. Form follows function very well here.
But that's not why we use this on a daily basis. NHT Violet glass is simply the ultimate for preserving our life sensitive products. We use for nuts, coffee, specialty flours, essential oils, wine leftovers (creating our own house wine) and so much more. And these products preserve for extended periods of time. We use on the counter, in the cupboards and in the fridge.
The NHT Violet glass not only preserves but also enhances the quality of the contents being stored inside.
HOW DOES IT WORK & WHY IS IT BETTER THAN REGULAR GLASS?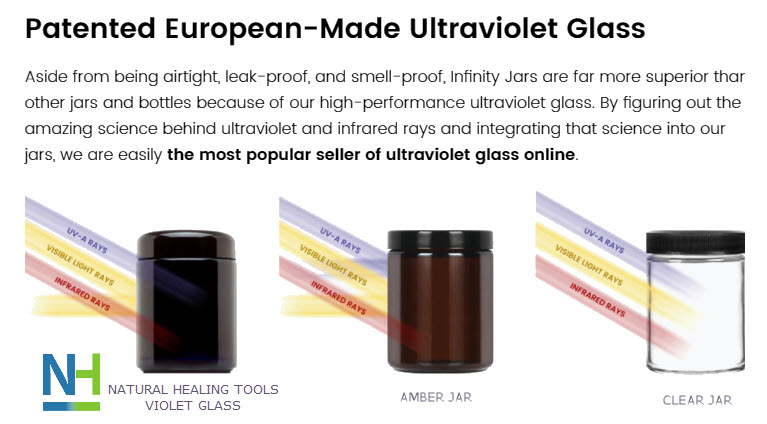 NHT Violet glass are different than any other glass container because of its natural preserving qualities. Normal glass allows harsh light to penetrate and pass through the product inside. But this glass allows only ultra- violet, violet and infra-red rays to pass through working as a filter to block out harsh and damaging light. This precious light that is allowed through improves and lengthens the potency and quality of the product inside without the use of chemicals, preservatives and other nasties. Pretty incredible right!?
THE BENEFITS OF MIRON GLASS
Compared to amber, blue, clear or green the benefits include…
Extended Shelf life.
Protection from harsh & Damaging light
The most awesome flame in a candle (its purple!) when used as a candle holder
Natural Preservation
Highest quality Glass.